GERARD GORE
, an alderman of the city of London at the close of the 16th century, married Helen, daughter of Ralph Davenant, of Davenant Land, Essex.
He died in 1607, having had eight sons, of whom, the youngest son,
SIR PAUL GORE
, 1st Baronet, of Manor Gore, so created in 1621/22, captain of a troop of horse, went to Ireland with his regiment in the reign of
ELIZABETH I
, and obtaining large grants of land, which he condensed into a manor, designated
Manor Gore
, settled there.
Dying in 1629, his 2nd son,
SIR ARTHUR GORE,
1st Baronet, of Newtown Gore, County Mayo, who was created a baronet in 1662. His descendant,
SIR ARTHUR GORE,
3rd Baronet, was elevated to the peerage, in 1758, as EARL OF ARRAN, of the Arran Islands, County Galway.
ARTHUR SAUNDERS [GORE],
2nd Earl, KP, PC; Sheriff of County Wexford, 1757; and of Mayo, 1765; MP for Donegal Borough, 1759-60 and 1768-73; and for Wexford, 1761-68; Privy Counsellor [I], 1771; Custos Rotulorum of Mayo, 1773-86;
Founder Knight of St Patrick, 1783.
PHILIP YORKE [GORE],
4th Earl, KP,
attaché to the legation at Stockholm 1820, embassy at Paris 1825 and embassy at Lisbon 1826; secretary of the legation at Buenos Aires, 1827-37; Knight of St Patrick, 1841.
ARTHUR SAUNDERS WILLIAM CHARLES FOX [GORE],

5th Earl, KP,

attaché at Hanover 1859, at Stuttgart 1860, at Lisbon 1861 and at Paris 1863; Sheriff of co. Donegal 1863-64; a Special Commissioner of Income Tax 1865-81; a Commissioner of Customs 1883-84; Lord-Lieutenant of Mayo, 1889-1901; Knight of St Patrick 1898.
6TH EARL OF ARRAN KP (1868-1958)
ARTHUR CHARLES JOCELYN CHARLES [GORE],

6th Earl, KP, PC; Knight of St Patrick, 1909; Privy Counsellor, 1917; Lord-Lieutenant of County Donegal, 1917-20.
The 6th Earl is pictured above, wearing the robe, sash and insignia of the Most Illustrious Order of St Patrick.
ADDRESS TO 6TH EARL AND COUNTESS OF ARRAN ON THEIR MARRIAGE
"We, the Tenants on your Lordship's Mayo Estate, and their friends, have heard with the utmost pleasure of your Marriage, and in meeting assembled, unanimously and with sincere and cordial feelings have passed the following resolution ..."
The earls of Arran were a "Patrick family", the 2nd, 4th, 5th and 6th Earls all having been appointed to the Order of St Patrick.
The present Earl and Countess of Arran live at Castle Hill House, near Barnstaple, Devon.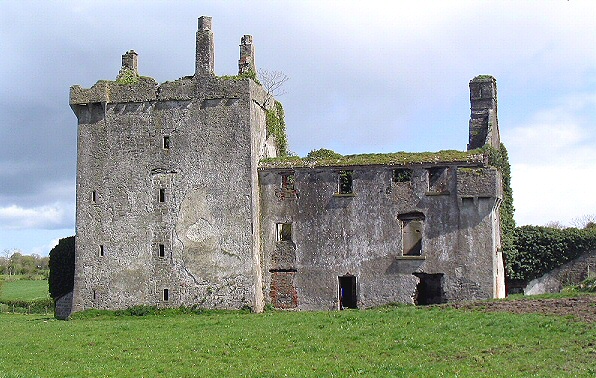 CASTLE GORE, or Deel Castle, near Crossmolina, County Mayo, is a 16th century tower house of the Bourkes. It is close to the northern end of Lough Conn.
After Colonel Thomas Bourke had fought on the side of
King
JAMES
in the Williamite War, the property was forfeited and given to the Gore family, afterwards Earls of Arran, who renamed it Castle Gore.
The tower-house had a large 18th century wing with a handsome rusticated doorway added to it, possibly incorporating a 17th century range.
They also acquired the manor of Belleek from the O'Haras, Barons Tyrawley, and owned estates in County Donegal.
The castle along with other lands was leased to James Cuff, Lord Tyrawley, towards the end of the 18th century; occupied by the Cuffs' steward for part of the 19th century.
James Cuff, Lord Tyrawley, built a house beside the Old Bourke Castle in 1791.
The house was burnt in 1922, when the Arrans removed to England. It was not rebuilt.
The old castle, which was still intact in the early 20th century, is now a ruin.
The earls of Arran had a London home at The Pavilion, Hans Place.
Arran arms courtesy of European Heraldry.