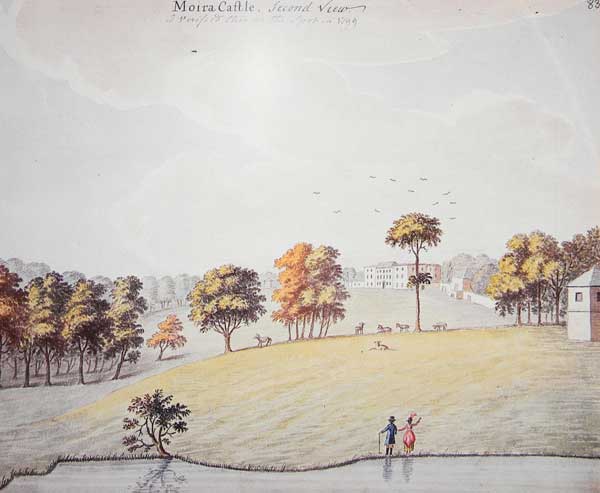 By kind permission of the Royal Irish Academy © RIA. Click to enlarge
A rare picture of Moira Castle in County Down, former seat of the Rawdons, Earls of Moira.
The family sold Moira Demesne at some period ca 1805 and moved to Montalto, near Ballynahinch, in the same county.
It is thought that Moira Castle was demolished ca 1870. The water-colour above is by Gabriel Beranger (1729-1817).
Beranger was born in 1729 at Rotterdam, in the Netherlands. He moved to Dublin in 1750 to join other family members.
In 1756, he married his cousin Louise Beranger (d 1782), and shortly afterwards opened a print shop at St Stephen's Green.
Beranger became acquainted with several members of Dublin society who were then taking a great interest in Irish history and antiquities. In 1773 he and his antiquarian friends made the first of their tours through Ireland.
Beranger's wife died in April, 1782, and in June of that year, he married Elizabeth Mestayer.
In the early 1780s, he obtained a job as assistant ledger-keeper in the exchequer office. In later years his circumstances were eased after he inherited part of a fortune amassed in India by his brother-in-law, Colonel Mestayer.
Gabriel Beranger died at a house in St Stephen's Green on 18th February, 1817.
First published in March, 2011.