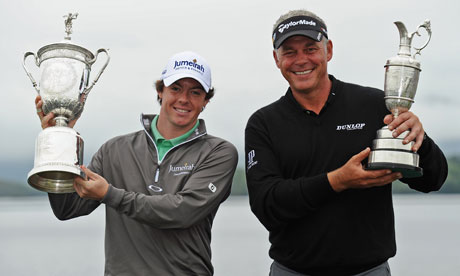 Two of our most outstanding Ulster golfers, Darren Clarke and Rory McIlroy, are nominated for BBC Sports Personality this year.
Ten of the United Kingdom's top sports stars have been nominated for this year's
BBC Sports Personality of the Year
award, representing the very best of British prowess and achievement in their sports.
Hailing from the four nations of the Kingdom and representing six very different sports, the ten have thrilled audiences around the world in 2011 and each now has a chance of being crowned the 58th
BBC Sports Personality of the Year.
The winner will be selected by public vote during the live show on Thursday, 22 December, 2011, from 8pm.
The short-list (in alphabetical order) is: Mark Cavendish (cycling), Darren Clarke (golf), Alastair Cook (cricket), Luke Donald (golf), Mo Farah (athletics), Dai Greene (athletics), Amir Khan (boxing), Rory McIlroy (golf), Andy Murray (tennis), Andrew Strauss (cricket).