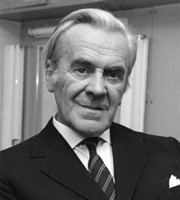 I shall be watching
It's All Been Rather Lovely
this evening, a one-off special documentary.
BBC Two (9pm) tonight looks back at the life and work of the debonair actor John Le Mesurier (1912-1983), star of
Dad's Army
, and one-time husband of Hattie Jacques.
John Le Mesurier (born John Elton Le Mesurier Halliley) was a BAFTA Award-winning actor, best remembered for his role as Sergeant Arthur Wilson in the BBC situation comedy Dad's Army (1968-77).
In private life, Le Mesurier was a heavy drinker, often seen with a drink in his hand but never noticeably drunk. His second wife, Hattie Jacques, claimed that his legendary
calculated vagueness
was the result of his "reliance on extra strong cigarettes".
Towards the end of
Dad's Army
, on medical advice he gave up alcohol but became seriously ill, and lost a great deal of weight. Friends relate that when he returned to drinking he had seven more years of life and regained his
joie de vivre.
His last words before slipping into a coma were reportedly, "It's all been rather lovely."