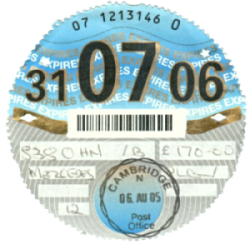 I received my annual car tax reminder from the Driver and Vehicle Licensing Agency of Northern Ireland (DVLNI) by snail mail during the week.
Car Tax can be renewed online in England and Wales
. I saw an advertising campaign about this recently on the television. Is the service available in Scotland?
So, it seems, one rummages through the wardrobe, unearths the cheque-book, writes out a cheque with the old fountain pen, completes their form, encloses the cheque and insurance certificate in brown envelope provided, sticks a stamp thereon, and finds the most convenient pillar-box.
What has changed with them in fifty years? Might one gently suggest that they enter the 21st century?
I can certainly be reactionary in some instances - resistant to change, especially if it is retrograde; nevertheless, I do embrace new technology.
Here is the response I received from
http://www.nidirect.gov.uk
:-
"It is unknown, at present, if Northern Ireland will introduce this facility.
If you have any further queries, do not hesitate to contact me.
Regards,
Lesley,
Vehicle Licensing Enquiries".


I have sent a copy of this article to the Department of the Environment NI for the attention of the Minister; and to the relevant agency

.