The family of

CHARLEY,

or

CHORLEY

, passing over from the north of England, settled in Ulster during the 17th century, at first in Belfast, where they were owners of house property for two hundred years; and afterwards at Finaghy, County Antrim, where
JOHN CHARLEY

(c1659-1743), of Belfast, left a son,
RALPH CHARLEY
(1674-1756), of Finaghy House, County Antrim, who wedded Elizabeth Hill, and had an only child,
JOHN CHARLEY

(1711-93), of Finaghy House, who married Mary, daughter of John Ussher, and had issue,
Matthew, died unmarried;
JOHN, of whom hereafter;
Hill, died unmarried;
Jane, died unmarried.
The eldest surviving son,
JOHN CHARLEY

(1744-1812), of Finaghy House, married, in 1783, Anne Jane, daughter of Richard Wolfenden, of Harmony Hill, County Down, and had issue,
John, of Finaghy House (1784-1844), dsp;
Matthew, of Finaghy House and Woodbourne;
WILLIAM, of whom we treat.
The third son,
WILLIAM CHARLEY
(1790-1838), of Seymour Hill, Dunmurry, married, in 1817, Isabella, eldest daughter of William Hunter JP, of Dunmurry, and had issue,
JOHN, of Seymour Hill;
WILLIAM, succeeded his brother;
Edward, of Conway House;
Mary, of Huntley;
ANNE JANE, of whom hereafter;
Eliza; Isabella; Emily.
ANNE JANE CHARLEY
(1822-1904), of Phoenix Lodge, married William Stevenson, Junior, in 1842, by whom she had no issue.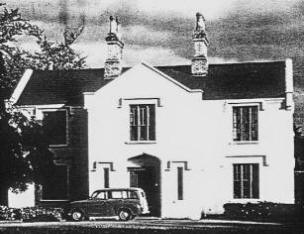 IN

1837, the Ulster Railway Company opened its first line from Belfast to Lisburn.
To encourage more use of the railway, free passes were offered to people if they built new homes near the stations and halts

.
It is thought that this may have influenced William Charley (1790-1838) to build Phoenix Lodge for his daughter, Anne Jane, in 1837, shortly before he died.
In 1842, Anne married William Stevenson, of Belfast, and they lived at Phoenix Lodge until his death in 1855.
His widow then moved to live with her mother at Huntley.
In 1882, the name of the house was changed simply to The Lodge,

following

the notorious Phoenix Park murders in Dubli

n.
Captain Arthur Charley (1870-1944) lived there with his wife, Clare, after the Great War until his brother, Edward Charley (1859-1932) died and he moved into Seymour Hill House.
In the 1930s

,

The Lodge was rented by Lord and Lady Ampthill.
In 1940, Major-General Sir James and Lady Cooke-Collis lived there

(h

e was the first Ulster Agent in London, but died in 1941 as the result of a German air raid on his club in London

).
Thereafter

it was occupied by Major-General Vivian Majendie, GOC Northern Ireland

.
I

n 1947,

The Lodge

was bought by Mrs Harland, sister of Sir Milne Barbour Bt, of Conway House.
Despite being listed, the house was vested in the early 1960s

, following

Mrs Harlan

d's death.
The grounds taken over for the expansion of a nearby factory.
A large, weeping ash tree dominated the front lawn of the Lodge.
The information has been sourced from Lisburn Historical Society. First published in March, 2011.