Early in 1600 three brothers, claiming to be a branch of
MURE
, or
MUIR
, of Rowallan, Ayrshire, removed from Scotland to Ulster.
Two brothers settled in County Down, and one brother in County Tyrone.
COLONEL JOHN MUIR
or
MURE
, of
WILLIAM III's
army, obtained a grant of lands in the Province, and was father of
HUGH MOORE
(1696-1777), Captain,
9th Regiment of Dragoons
, who married, in 1720, Elizabeth Clarke, of
Clough House, County Down, and was father of
JOHN MOORE
(1724-1800), of Clough House, land agent to the Annesley estate, who wedded Deborah, daughter of Robert Isaac, of Holywood, County Down, and Anne his wife, daughter of
James Bailie, of Inishargie
, in the same county, a descendant of John Knox.
Mr Moore was succeeded by his son,
HUGH MOORE
(1762-1848), of
Eglantine House
and
Mount Panther
, both in County Down, Captain, 5th Dragoon Guards, Colonel, Eglantine Yeomanry (which he raised) in the Irish Rebellion.
Colonel Moore was
Aide de Camp
to General Needham during the Irish rebellion, and raised and commanded the Eglantine Yeomanry.
He married, in 1798, Priscilla Cecilia, daughter of Robert Armytage, of Kensington, London, and widow of Robert Shaw, of Terenure, County Dublin, and had issue,
JOHN ROBERT, his heir;
William Armytage (1806-83); father of HUGH ARMYTAGE;
Jane Deborah, died unmarried;
Priscilla Cecilia, m 3rd Earl Annesley;
Caroline Anne Elizabeth, m Rev J P Garrett;
Maria Clarissa, m W Humphrys.
Colonel Moore was succeeded by his eldest son,
THE REV JOHN ROBERT MOORE
(1801-88), of Rowallane, County Down, Vicar of Kilmood, 1830, who wedded, in 1850, Jane, daughter of R Morris, of Carmarthen, and widow of Henry Davidson; though
dsp,
and was succeeded by his nephew,
HUGH ARMYTAGE-MOORE JP
(1873-1954), of Rowallane, County Down, who married, in 1910, Jane Christian, eldest daughter of Kenneth Mathieson, of 50 Prince's Gate, London;
2nd lieutenant, 3rd Battalion, the Royal Dublin Fusiliers, 1891; Manager, Annesley Estate, 1909-17; Chairman, County Down section, Ulster Volunteer Force.
*****
Charles James Eglantine Armytage-Moore
(1880-1960), son of William Armytage-Moore and Hugh Armytage-Moore's cousin,
Founding partner of the London stockbrokers Buckmaster & Moore and owned an estate called Winterfold, a Queen Anne style residence with 219 acres near Cranleigh in Surrey, with a remarkable collection of furniture and art.
ROWALLANE HOUSE
, near Saintfield, County Down, is a long, low, plain house of two storeys, with a higher block at one end.
It was built in 1861 by the Rev John Moore, who had purchased the property as a farm.
In 1858 he had bought a townland called Creevyloughgare.
After this initial acquisition, Mr Moore then acquired the neighbouring townland, Leggyowan, in the early 1870s and named it Rowallane, meaning Beautiful Clea
n
rig, after the ancestral home of his Scottish forebears.
He gradually enlarged the farmhouse, added the walled garden and stable block and planted The Pleasure Grounds.
The house has irregular fenestration, with a few first-floor windows having little, iron balconies.
The grounds contain various turrets; an obelisk made of spherical stones from the river bed; and other 20th century follies.
The house and grounds, comprising
ca
220 acres, were walled-in and converted from farmland to the fifty acre layout as seen today.
The land has pockets of good acid soil and much rock near the surface, so planting is mitigated by these conditions.
The planting is informal, for the above reason, and it also reflects the style of the era.
Initially shelter trees were planted, and the Pleasure Grounds developed to the west of the house.
Entrance Front ca 1890
Ornamental plants were added, but the important plant collection that can be appreciated today occurred between 1903-55 by Hugh Armytage Moore ~ whose sister, incidentally, was the first wife of Percy French.
This has become one of the finest gardens in Northern Ireland and is appreciated for the impressive variety of plant material, which can be enjoyed at all times of the year.
The size is not intimidating ~ fifty acres; and the layout is varied by being in compartments, often using earlier stone-walled field boundaries.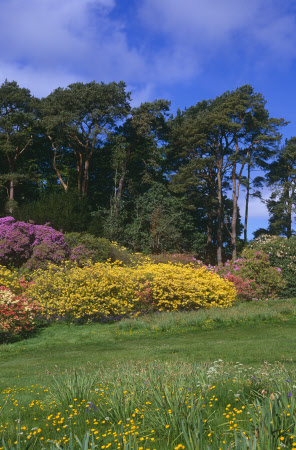 There is the Spring Ground (above), Stream Ground, and the New Ground, to name some of the areas.
The Rock Garden Wood lies at the southern end of the garden and, as a large natural rock outcrop, provides an ideal spot to grow a wide range of alpines and unusual shrubs.
The walled garden, originally a conventional fruit, vegetable and flower garden, became a focus for the plant collection and, at the present time, is fully maintained and contains many interesting species, including the national collection of
penstemons
.
Rhododendrons are a speciality and they can be seen in many parts of the grounds.
Wild flowers are encouraged in the Pleasure Ground.
A great deal has been written about Rowallane in horticultural journals.
Rowallane demesne was acquired by the National Trust in 1955 and, since then, the gardens have been improved and the plant collection added to.
The ground floor of Rowallane House is now open to visitors with a new café, shop, and exhibition on the ground floor.
The house has recently undergone internal alterations and visitors can now enjoy new enhanced facilities.
Alterations include: the formation of structural openings to the ground floor to provide a new café, shop and interpretation area; a new tea room, designed to bring the outdoors indoors, with the colour scheme depicting the four seasons; while customers can also enjoy a new outdoor patio area.
There is also a pottery.
First published in September, 2012.